Incorrect slider name. Please make sure to use a valid slider slug.
Orthotics, Wound Care, Ambulatory, Diabetic Supplies & More
From walkers and crutches to testing supplies to handrails to compression hosiery, Stone Ridge Pharmacy has the medical supplies you need to stay safe and healthy in your home. Among the thousands of products available, it can be difficult finding what you need and knowing which type and brand are best for you. We are committed to helping our customers get the supplies they need at affordable prices. If you have any questions about the medical supplies we carry, please get in touch with our pharmacists today.
Ambulatory
Getting around the house, walking to your car, or anywhere you need to go can be done safely with the right tools. The Stone Ridge team can help you fight the equipment that fits your needs and budget, and we'll even show you how to use it if you need assistance.
Canes
Walkers
Crutches
Ambulatory accessories
Wheelchairs
Diabetes Care
Diabetes requires regular monitoring and a reliable supply of medical supplies, from test strips to insulin pumps and needles. Your health is paramount, and we are here to ensure you have what you need, when you need it.
Glucose monitors
Testing supplies/kits
Diabetic skin care
Insulin syringes
Diagnostics
Whatever your needs may be, Stone Ridge Pharmacy carries quality supplies from reputable and affordable brands. We strive to provide you with the equipment you need to effectively monitor your health.
Blood pressure kits
Urine test strips
Pregnancy test kits
Scales
Stethoscopes
Thermometers
Bathroom Safety Supplies
For the elderly or patients recovering from an accident or surgery, the bathroom can be filled with hazards. We can help equip your bathroom with medical supplies to make it as safe and comfortable as possible.
Handrails
Non-skid bath mats
Shower chairs
Toilet seats
Toilet safety frames
Orthotics
Orthotics medical supplies can help you remain safe and recover faster after an accident or surgery. If your doctor has prescribed a certain supply, you can be sure that you'll find it at Stone Ridge Pharmacy.
Braces and supports
Cast boots and protectors
Immobilizers
Splints
Supporters
Foot pillows
Arm sleeve protectors
Cervical rolls
Cushions
Wound Care and First Aid Supplies
Our team strives to help you heal quickly and safely with effective wound care supplies, including alcohol pads, cotton applicators, sponges, and medical tape. We carry a wide variety of supplies so that you can treat your wounds.
Bandages
Gauze dressings
Elastic bandages
Foot Care bandages
Support Hosiery
Designed to apply pressure to legs in order to boost circulation, there are several types of support hosiery available at Stone Ridge Pharmacy. Visit our Aldie pharmacy to browse our selection, or we can order supplies for your unique needs.
Compression hosiery
Anti-Embolism stockings
Arm sleeves
Compression gloves
Knee highs
Thigh highs
Pantyhose
Socks
Durable Medical Supplies, Incontinence Care, Diagnostics, & More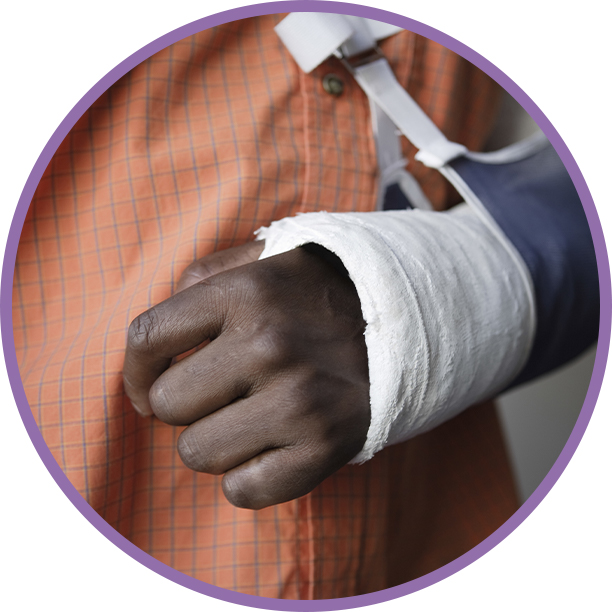 Various medical supplies are often necessary after surgery, an accident, or simply as we get older and need help around the house. Whatever your needs may be, you can trust Stone Ridge Pharmacy to have what you need. We take pride in being able to offer our Aldie customers affordable prescriptions and a variety of medical supplies to help enhance their quality of life.
Our pharmacists and support staff have years of experience helping patients find the supplies and equipment that are best for their needs. We understand the difficulty in finding the exact product that suits you, but we will take the time to work closely with you in order to learn what your needs are and what tools will help you the most. We can also help show you how to use it properly to ensure your safety and satisfaction.
Stone Ridge Pharmacy is located in Aldie, VA, and strives to offer exceptional customer service and support. We understand how important it is that you get medication when you need it, so we offer affordable prescription medications and refills as well as home delivery so that you're not spending time in traffic or waiting in line.
If you need medical supplies or a simple refill on your prescription, get in touch with the team at Stone Ridge Pharmacy. We're here to help keep you safe and healthy.